It took many calls before Jim Surber was able to get Ross Smith on the phone.
"I heard a rumor that there was a gentleman with an Orange Texas Ford dealership that he wanted to sell," Surber said. That was perfect, because he'd been looking for a Ford store to purchase.
But Ross is a busy man. A lifelong resident of Orange, Texas, with his array of businesses situated in Orange, it wasn't a small task for Jim to finally get him on the horn and chat about the dealership.
That made it all the more surprising when, three days later, Ross Smith was sitting in Jim's living room in Abilene, Texas.
---
Shaping an Orange Texas Ford Store
That was just over a year ago, and now Jim Surber is thrilled to be living in Orange, Texas, serving as managing partner of Sabine River Ford, and working with Ross to provide the best for their southeastern Texas and southwestern Louisiana customers.
"Ross is not a car man," Jim said. "But I've got a hold of that. It makes for a great marriage."
The partnership has been working beautifully. Ross has the hometown connection and had the store in place. Jim brings his expertise from 39 years of retail automotive industry work.
"When I was in college I was in charge of the new car detail department," Jim said.
Then he worked all the way up through departments and positions, learning the industry in and out. Mechanic's helper, salesperson, finance. Used car manager, new car manager, sales manager. Finally, GM and owner.
"I grew up in that era of the height of the American love-affair with the automobile," he said. "It's just been the most natural fit for me that I could have ever imagined."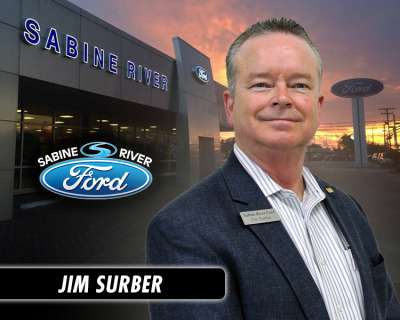 For Jim, working at Sabine River Ford is not only his vocation - but also his hobby.
"There is nothing I would rather do, outside of spending time with family, than be in a car dealership."
He's always had a fire down in his gut for the job, and he's thrilled to be sharing that with Ford drivers in Orange and the Golden Triangle.
Since Jim started at Sabine River Ford on September 14, 2016, he said it's been extremely exciting to get involved with a real community.
"I was born in Austin, Texas. I've spent my career in the big metroplexes," he said. "You don't really understand what it means to get involved in a community until you come to a place like Orange."
Jim is a member of the Orange Texas Rotary Club, and is joining the board of directors for the Chamber of Commerce - the same chamber that recognized Ross Smith as 2010 Citizen of the Year.
"The thing that Ross and I shared, the reason it was a natural fit, is we are both absolutely dedicated to doing the right thing by both our customers and our employees," Jim said.
That conviction and dedication was put to the test when Hurricane Harvey rolled in.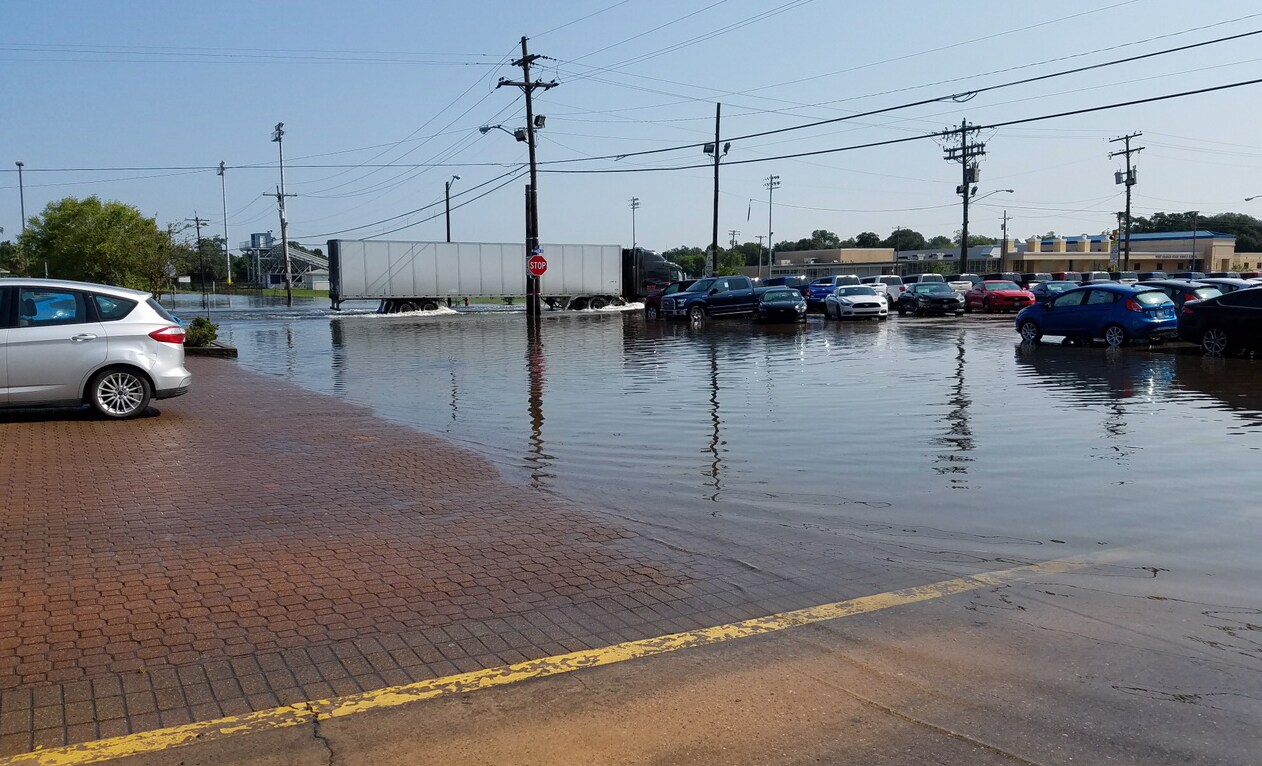 Hurricane Harvey and Orange Texas Car Dealerships
"If you see a community on its knees like we have seen with this one, it's incredible to see how we've all gathered together," Jim said. "Everyone has been involved in a giving of time, or giving of compassion, or giving of money and resources."
He said that things are looking much better every day, as the community heals and life returns to normal.
"Every day is a new challenge and a moving target, he said. "It's a whole different situation when you wake up and get to work every day."
For Sabine River Ford itself, large parts of the dealership have been reconstructed. The store is fully opened and fully stocked. Transport trucks arrive daily with more vehicles.
Moving Forward
Jim is proud of how his staff is connecting families with exactly the vehicles they want and need.
"We can locate what they want and get it over here," he said, adding that it shows the difference of buying from a family.
"In the big cities, all the dealerships are bought up by the big companies," he said. "It's a big corporate feel, because there are all sorts of guidelines."
"There are families working here," Jim said. "We love the fact that people feel like family when they buy here."
Given all the twists and turns of his Sabine River Ford story, from Ross Smith visiting him in Abilene, to the year they've had serving Orange, Texas, to the recovery of the community from the storms, Jim figures there's no way that you could deny that God's hand was in it.
"It's a successful year by every measure," Jim Surber said.