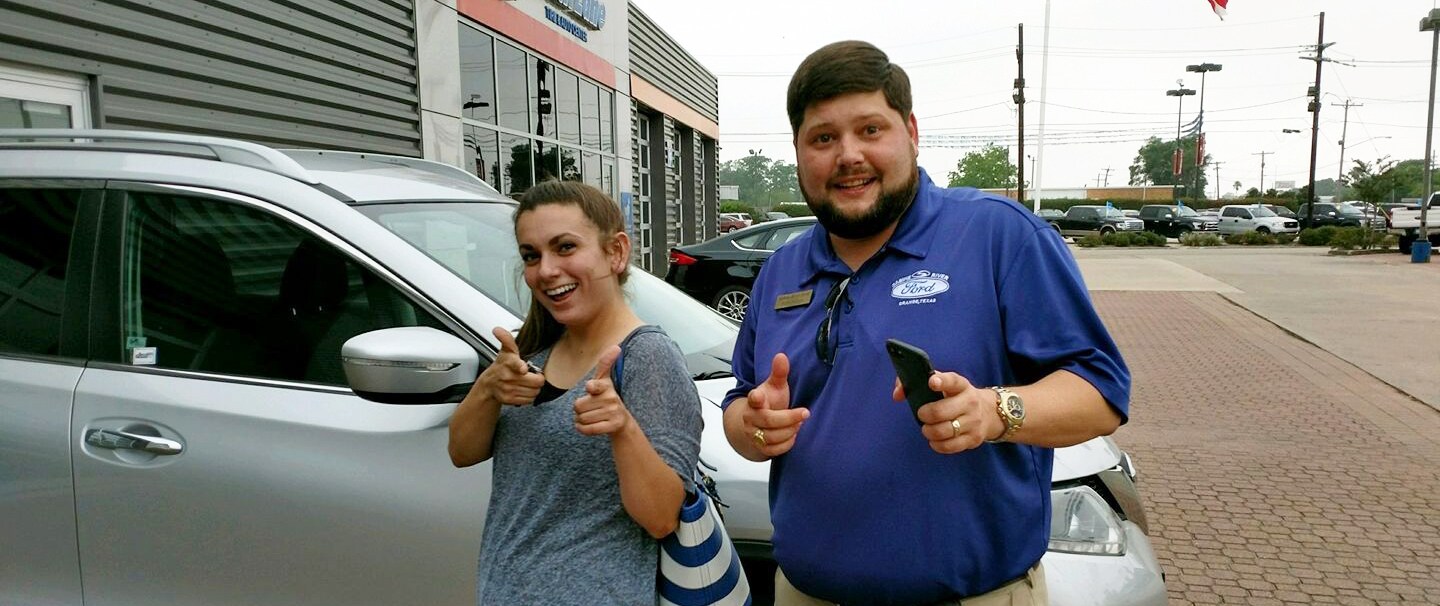 It's no secret that our Orange TX car dealership is a favorite Ford dealer to many. Our dedicated staff ensure a pleasant and easy car buying process from the moment you walk in the doors. Even after you've bought a new car, you leave happy knowing your vehicle will be serviced by trained service technicians.
Sabine River Ford Reviews
We encourage all of our customers to write reviews for us. If your experience wasn't 5 star let us know so we can improve next time!
Joe, our General Sales Manager, would love to hear from you directly if you haven't had a great experience. We strive for strong customer service and giving our customer the best experience when looking for their next Orange TX Ford or used car.
"Bought an awesome 2017 Toyota Tacoma TRD Off Road from Steven Babb at Sabine River Ford on 4-27-18. Had a great experience, the guys up there worked hard to make me a deal and make me happy! If you're looking for a new ride, go check out Sabine River Ford!" - Kenneth
Our Dedicated Ford Team
Our Sabine River Ford team is dedicated to its customers. We live and breathe our Orange, TX community. If not for those in the Golden Triangle shopping with us, we wouldn't be who we are today, a loyal Ford dealership. Many of our staff volunteer or sit on boards at the Chamber of Commerce, Rotary, and more. We take care of our own during difficult times and times of celebration.
Jim Surber, Managing Partner, says, "we are absolutely dedicated to doing the right thing by both our customers and our employees."
"Our business recently bought a van from Sabine River Ford. We couldn't be more happy with the purchase we made and the customer service we received. Lee made the vehicle purchase easy and hassle free. They even beat Houston pricing! We will be back to Sabine River Ford for our next purchase!" - Henry

"I was able to buy my beautiful wife a car thanks to doing business with Willy Cox and Bob Ricker. They made it happen for us. The business was very professional and I am 100% satisfied with everything. We have a baby and one on the way and we have a brand new vehicle to be able to get around with them in... We are so thankful and satisfied thanks Willy and Bob we are very pleased." - Robert
Your Orange TX Car Dealership
If you haven't worked with us before, whether buying or servicing a vehicle, we encourage you to stop by. Many of our staff have worked in the auto industry and at Sabine River Ford for many years. You'll probably recognize a face or two from those in the community. Stop in and say hi, we'd love to hear from you.
Submit a Google Review ››
Submit a Facebook Review ››
Contact Us ››
"From the initial contact to signing the last dotted line every part of the buying process was smooth with Sabine River Ford. My sales rep Steven Babb handled everything quickly and made sure we understood every aspect of the deal and the vehicle itself. He went above and beyond to make sure we were comfortable and taken care of the whole time we were there. The finance person we worked with, Mitch Canaday, was very personable and quick with getting us in and out with financing. Every person that we came into contact with throughout the day was very friendly. We had a great experience and will definitely be back when it's time for another vehicle." - Jennifer